In 1994 I was asked to make some helmet covers for a friend of mine. I made several and they sold like crazy. I was then asked if I could make tights. I did some research and was amazed at the high prices being paid for these items. I thought I would take a stab at making some myself.
Within two weeks I had a business and was on my way to the most rewarding experience of my life. I had found my niche. To be able to help others with a talent you possess is a great privilege. Making people more comfortable while riding or just horsin-round has become my mission in life. It is my feeling that, with everything the rider must be focused on, the clothing they wear should not be something they have to think about. The fact that I now have clients all over the world as a result of this is amazing beyond words.
We (Pat Allen and I) go to the horse shows in our area and to the ride events also. We are at some kind of a horse event nearly every weekend of the year.
There are a number of items I make for both the rider and their horses. I have an extremely long "eventually" list of things I will be making. Right now I make everything myself, so you will be dealing with the maker at all times. I wash all my cotton spandex fabric before I cut my patterns out, so you need have no fear about any of my garments shrinking. Sometimes you may have to wait a bit to get your order, but once you have received it, I am sure you will feel you have gotten your money's worth as well as purchased a quality product.
I look forward to helping you with your riding needs. Hope to hear from you soon,
Evelyn Allen
Pat and I are both into amateur radio. Our call signs are:
Heavy-Duty Levis--with metal rivets on the pockets and double-stitched seams--may have been the jeans that tamed the West, but even Marshal Dillon would've wished he'd worn something softer after 50 miles in the saddle.

Comfort is key when it comes to the sport of endurance riding--where horse and rider can cover 50 to 100 miles a day. And, thanks to Russia launching Sputnik in 1957, the beginnings of that sought-after comfort came when America was catapulted into the Space Age, and the cultural phenomenon spandex was born. Invented in 1959 as a substitute for rubber, the fabric revolutionized sportswear. Today's athletes--endurance riders included--can find soft, form-fitting, lightweight yet rugged pants that go the distance wash after wash.

When California equestrians began challenging the Sierras in the 1950s, nobody cared what they wore. It was simply a new adventure. Little by little, this new kind of timed trail ride caught on, and endurance riding became an organized sport in 1972. One realization quickly took hold: Stiff pants with inner seams can be deadly. But, it would take several decades before the market caught up with the rider's needs.

In their battle against saddle sores back then, savvy riders grabbed their old, faded jeans--not for the look, but for the feel. Some, such as Corry Clinton of Los Alamos, N.M., had to learn the hard way. Not wanting to look shabby for her first 50-mile ride in 1975, she wore a brand-new pair of jeans and, while she finished the ride, she couldn't wear pants for several weeks afterwards. "I still have scars," Clinton says. riding tights like she wears today weren't available then, so experimentation was necessary. She tried old jeans, then began wearing pantyhose under jeans before switching to English riding breeches--anything to keep the chafing down.

Men apparently just toughed it out. One early rider remembers how they wore longjohns under their jeans for a long time before trying pantyhose instead. Some still hold out and hide their pantyhose under their jeans, but most serious male competitors broke rank with the western look and, snickers aside, joined the ranks of men in tights.

But there are some, such as Larry Koble of Glenwood, N.M., who tops 200 pounds and looks like a linebacker, who won't go there yet. He, too, wore Levis on his first ride six years ago. "Oh man, it hurt so bad," Koble winces, rubbing his thigh. "I really got sore on the seams." He switched to stretch jeans, but they had seams too. Now Koble wears stretchy, black English riding pants, with a zipper and made of heavy cotton-Lycra blend that hides the bulges but gives him freedom to move.

Those early riders ready to wear tights could choose workout tights made popular by Olivia Newton-John's hit single "Physical" in 1981, or, for a little more money, tights for bicyclists or mountain climbers. Dressage leggings also were available, but at a price many didn't want to spend. Plus, dressage riders must remain planted in the saddle and a leather or suede-like full-seat patch gives them that extra grip.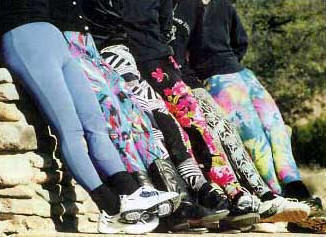 In competitive trail riding, comfort rules, but spice is nice.
But endurance riders have to be able to dismount to run alongside their horses. The full-seat patch isn't needed, but inner knee or calf-to-crotch patches are. They also need fabric that withstands rougher treatment than arenas present.
Cotton blends offer the softest fit, but cotton doesn't hold up and retains moisture on long, hot rides. So riders are looking to high-tech sports fabrics to give them that second-skin feeling.
Simply reading the names of these fabrics conjures up images of test tubes and white lab coats. Forget nylon or Lycra. They're old hat. Today's riders can wear Milano Microfibers" like Spandura or CoolMax Alta, dubbed "the latest in moisture management" fiber technology, or they can try "Tactel Microfibers" that supposedly don't absorb moisture, dirt, or odor. then there's "TriMicro fabric," described as "heathered micro fibers of poly, acrylic, rayon and Lycra blend: for the coolest hot-weather tights around. For colder climes, Polarfleece leggings provide "warmth and breathability."

If riders want color, the selections read like a menu: cocoa, espresso brown, eggplant, sage, grape, and burgundy. Tights typically range in price from $50 to $80, depending on the fabric, design, and brand. Some exceed $100, but there also are finds such as the custom designer who sells wild prints for $35. Then there are those who swear by their $10 discount-store tights.

With the market filled with high tech sports fabrics in wild and wonderful colors and patterns--from wild animal prints to flowers or swirls -- the search for a pair of good riding pants has uncovered one salient rule: COMFORT DOES NOT HAVE TO BE DRAB.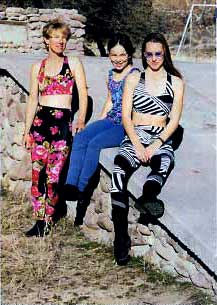 Evelyn's custom-designed Just for Horsin-Round line offers tights with matching "trottin' bras." The heavyweight nylon-spandex bra is cut higher in the neckline and under the arm for the "compression" factor.